Call (435) 635-2879 to reserve your relaxing private 3 hour soak in seven outdoor pools of 108 degree mineral-rich water flowing up from their volcanic source deep below the Virgin River. Reservations may be made round the clock! We offer senior and group discounts, just ask!
With your private reservation you will enjoy a secluded 3 hours which includes 7 hot mineral pools in the canyon all to yourself, the Virgin River at your side for a cooling splash, a soft grassy picnic spot, and oozing warm mud to play in on the adjacent silty beach. Prices are $50 for one, $80 for two, and $20 for each additional bather. Find out about our senior, special event, group discounts and our new weekly LOCALS OPEN HOUSE discounts. Check our Pah Tempe FACEBOOK daily for these sign-up dates! $10 individuals/$30 per family. Limited camping is available with soaking reservations as a package.
You can pay via cash or check, and we also accept credit card payments via PayPal's secure Merchant Services. See map and directions below: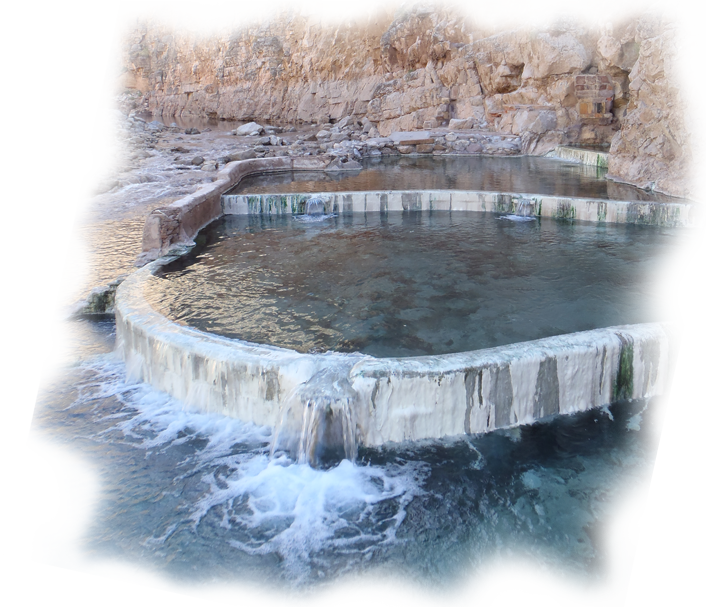 Pah Tempe is located in southwest Utah, 25 minutes from either Zion National Park or St. George. See the map below:
From Las Vegas:
Take I-15 N towards Salt Lake City

Exit Scenic Highway 9 towards Hurricane

As you leave the town of Hurricane, turn right on The Enchanted Way (just before the canyon bridge)
If you enter the town of La Verkin, you've gone too far!
From Zion National Park:
Take Utah 9 towards La Verkin
Take a left at the stoplight in La Verkin to continue on Utah 9 towards Hurricane/St. George
Immediately after you cross the Virgin River Canyon bridge, turn left on The Enchanted Way — it's a tree-lined turn-off
If you go straight up a slight hill after the big bridge, you've gone too far!
See you soon!
Pah Tempe is looking forward to welcoming you to a very unique, relaxing and nurturing experience in its comforting mineral pools very soon! Call and make your reservation today! (435) 635-2879